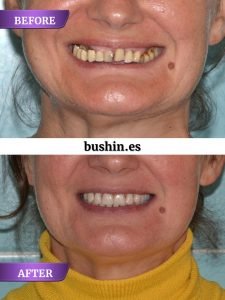 Our doctors successfully resolved a very complicated case.In other dental clinics they could not do anything with this patient's problem: there was not enough bone to place the implants and, in addition, there were some roots left inside the jaw.
But at the Dental Family Bushin clinic we always look for a solution, however complicated it may be. We have placed very short implants in both jaws and here you can see the perfect result of this operation – a beautiful and happy smile!
If you have a complex problem with your teeth, go to our Dental Family Bushin clinic in Campoamor and Torrevieja and our specialists will do everything possible to solve it!